444 words
2 minutes reading time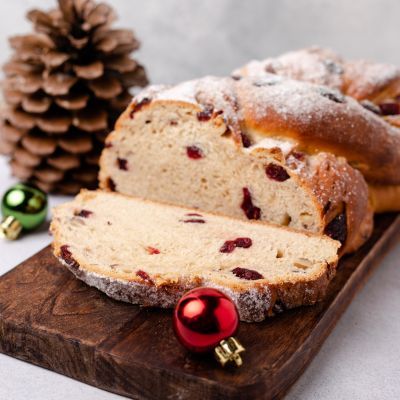 SweetLife Christmas Bread
An exquisite and original Christmas Bread to treat your family or friends! Who had thought that you wouldn't need sugar? Try baking this recipe and find out that it tastes just as good as you're used to… perhaps even better!

Ingredients:
Dough:
375g wheat flour
25g SweetLife Xylitol (a.k.a. Birkenzucker / Berkensuiker)
10g dry yeast
40ml SweetLife St. John's Bread syrup
60g egg or egg replacement
7g salt
1 tsp cinnamon
1/2 tsp ginger
1/2 tsp nutmeg
75g butter, small lumps on room temperature, plus some extra to brush the bread after baking
Filling:
130 gr dried cranberries
50 gr hazelnuts, roughly chopped
Other:
Sunflower oil
SweetLife Icing xylitol
(all SweetLife products are available in all Dutch and Belgian @jumbo stores)

Combine all ingredients except the butter, sunflower oil and icing xylitol in a bowl. Knead in a stand mixer for about 8 minutes until you have a firm dough. Add the lumps of butter one by one and keep kneading until a smooth dough is formed. Cover the dough for 15 minutes and then add the cranberries and chopped hazelnuts. Mix them evenly through the dough.
Lightly grease a bowl with a small amount of sunflower oil. Place the dough in it and cover the bowl with a clean tea towel. Let this rise at room temperature for about 2 hours (!) or until the dough has doubled in volume. An easy way to let the dough rise easily is to place the covered bowl in the microwave, add a glass with boiling water next to it and close the door. This is how you make a proofer and lets the dough rise a bit better than at room temperature.
Turn the dough onto a work surface greased with sunflower oil and push out the air. Roll it in a thick roll and flatten it a bit. Divide this into three equal strings and braid the three pieces of bread together. Pinch together the end pieces and tuck them under the roll. Carefully place the loaf on a parchment paper lined baking sheet. Cover the bread with foil and let it rest for another 45 minutes.
Preheat the oven to 180˚C. Bake the bread for 35-40 minutes. Lower the temperature of the oven to 160˚C after the first 20 minutes.
After baking, place the bread on a cooling rack immediately. Let it cool for about 10 minutes before you brush the bread with melted butter. Sprinkle generously with Icing Xylitol ('sugar powder').
The SweetLife Christmas bread tastes delicious with some salted butter. If you have leftovers that feel a bit dry, make French toast with them.
Wishing you a sweet Christmas! And enjoy the #SweetLife ;)
To All Recipes