175 words
1 minute reading time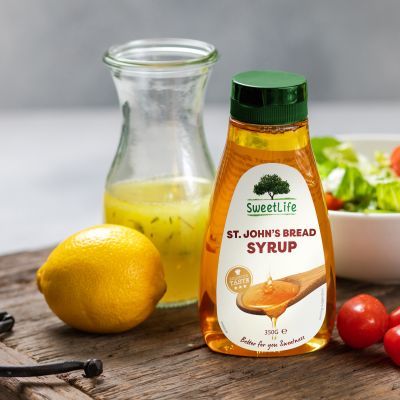 Summer Salad Dressing with Lemon and Syrup
Lemon dressing for a summer salad
Trying to hold on to that summer feeling? We feel you! Here's a simple yummy recipe for an original salad dressing, perfectly balancing sweet and sour flavours to surprise and treat your family or guests!
100 ml olive oil
40 ml SweetLife St. John's Bread Syrup
zest and juice of one lemon
salt
black pepper
½ teaspoon fresh thyme leaves
Add the olive oil, St. John's Bread Syrup, salt, black pepper and the zest and juice of the lemon to a mason jar or salad shaker. Any airtight container will do the trick too.
Shake the bottle well until the dressing is blended and smooth.
The dressing can be stored in the fridge for about 3-5 days in an airtight container. If you make it in advance, make sure to shake well before serving.
Pour this over your favorite salad, for example Romain lettuce, mixed with tomatoes and cucumber. Top with some roasted cashewnuts or pumpkinseeds and feta cheese.
Enjoy! And don't forget to share and tag us: www.instagram.com/sweetlifenatural
To All Recipes