244 words
1 minute reading time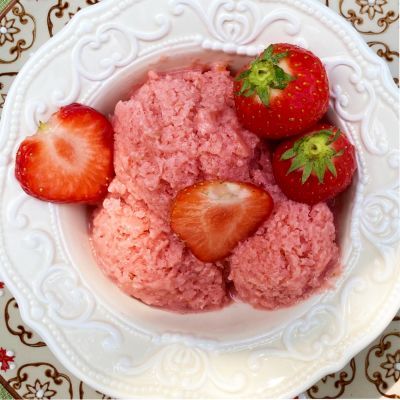 Rhubarb-Strawberry 'Ice Cream'
The season for rhubarb and strawberries has come again. So, it's about time for a tasty recipe with these spring favourites!
This 'ice cream' recipe is super easy to make and you only need 4 ingredients. It's mainly frozen fresh fruit so a perfect way to stack up on your vitamins! The sweetener in the recipe is our SweetLife St. John's Bread Syrup (a.k.a. Carob Syrup / Johannesbroodsiroop ) . This syrup is extracted from the fruits of the carob tree and is a wonderfully healthier alternative to sugar or honey.
The combination of sweet and sour makes this ice cream a delicious dessert for a barbecue on a summer evening :)
What do you need?
• 2 ripe bananas
• 250 g rhubarb
• 250 g strawberries
• 4-6 tbsp SweetLife St. John's Bread Syrup
Preparation:
Slice the bananas, put them in a container and put them in the freezer until frozen.
Cut the rhubarb into pieces and boil it with 2 tablespoons of water for about 10 minutes.
Let the rhubarb cool completely and stir in the SweetLife St. John's Bread Syrup.
Remove the tops from the strawberries and mash them together with the frozen banana and the rhubarb in a blender.
Put the ice cream in the freezer and stir it every 30 minutes until it is completely frozen.
Let the ice cream defrost slightly outside the freezer before serving. Serve with some fresh strawberries!
Enjoy and share the share the result! #sweetlife
www.instagram.com/sweetlifenatural
To All Recipes