281 words
2 minutes reading time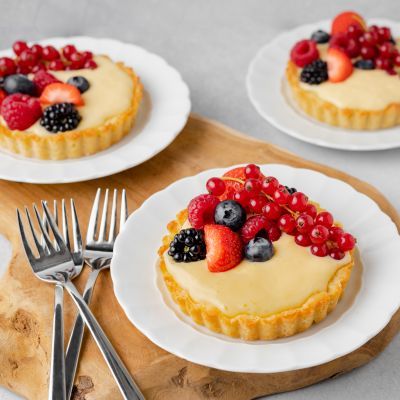 Fruit tarts with custard
Ingredients for 8 tarts:
Dough:
180 gr cold unsalted butter
300 gr flour
150 gr SweetLife Xylitol
1 egg
Pinch of salt
8 tart molds ø10 cm
Filling:
30 gr custard (powder)
500 ml milk
30 gr SweetLife Xylitol
A selection of forest fruit to decorate

Put the ingredients for the dough in a bowl and mix with a mixer to a crumbly dough. Then knead it into a ball quickly and wrap it in plastic wrap. Press the ball gently into a disc and let it rest in the refrigerator for 30 minutes.
Meanwhile, make the custard pudding. Mix the Xylitol, the custard powder and a dash of milk in a bowl to form a paste. Heat the milk in a saucepan until it is almost boiling. Pour the paste into the warm milk while stirring with a whisk. Keep stirring and let it thicken slightly. Remove from heat and leave it to cool in a bowl.
Preheat the oven to 180 ˚C.
Grease the tart molds with butter. Roll out the dough on a lightly floured surface and line the molds with it. Press the dough into the edges and side with your fingers. Remove excess dough from the edges. Prick the with a fork and bake the pie crusts blind (with baking paper and some weight in it like dry beans) for 10-15 minutes or until the edges are golden brown. Let them cool down completely before filling.
Spoon some custard into the pie crusts and decorate some fresh fruit over it. Cover and store the fruit cakes in the refrigerator if you want to serve them later.
Enjoy!
For more cooking and baking inspiration: follow us on www.instagram.com/sweetlifenatural !
To All Recipes