368 words
2 minutes reading time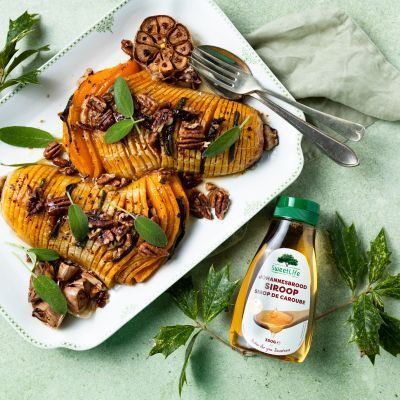 Christmas Dinner Idea: Hasselback pumpkin
Hasselback pumpkin with carob syrup, roast garlic and pecans
This vegan dish is perfect for a festive meal together with family and friends. Instead of the traditional big piece of meat, show them that a vegan alternative can offer the same tasty sensations! By cutting the pumpkin into thin slices you get a beautifully layered effect and the flavours get absorbed even better. The sweetness of the St. John's Bread Syrup (a.k.a. Carob Syrup) is balanced with the spicyness of the chili flakes which make every bite interesting! Serve with mashed potatoes and roasted Brussels sprouts for a complete dinner!
Prep time: 30 minutes
Cook time: 60 minutes
Servings: 4 persons
Equipment: oven tray and baking paper
Ingredients:
• 1 butternut squash
• 2 tablespoons SweetLife St. John's Bread syrup
• 2 tablespoons olive oil
• 1 teaspoon Dijon mustard
• 1 teaspoon of chili flakes
• 20 sage leaves
• 1 garlic bulb
• Pepper and salt
Preparation:
1. Preheat oven to 180 degrees Celsius. Line a baking tray with baking paper.
2. Slice pumpkin in half lengthways, remove seeds with a spoon and peel skin with a potato peeler. Place pumpkin halves cut side down on a chopping board and slice across the pumpkin, taking care not to cut all the way to the board. Repeat down the length of the pumpkin approx. 3-5mm apart. TIP: Use a chopstick placed either side of the pumpkin half to stop your knife so it doesn't cut all the way through.
3. In a small bowl, combine the olive oil, syrup, Dijon mustard and chili flakes.
4. Place pumpkin on the prepared baking tray and brush with the syrup mixture. Keep 1/3 of the mixture aside. Insert sage leaves into some of the cuts in the pumpkin halves and sprinkle both halves with salt and pepper and a little extra chili.
5. Cut the garlic in half and place on the oven tray. Drizzle with some olive oil and sprinkle with salt and pepper.
6. Bake for 50 minutes, then top the pumpkins with the pecans and bake for a further 5 minutes until the pumpkin is fork-tender.
7. Serve with extra St. John's Bread Syrup and the garlic.
To All Recipes