296 words
2 minutes reading time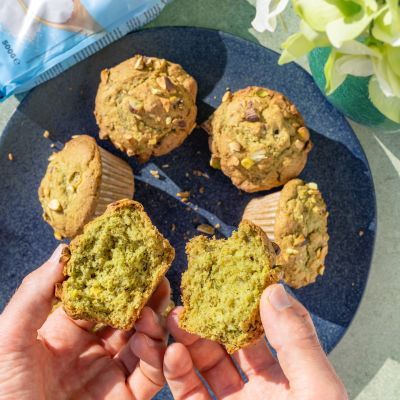 Pistachio and matcha muffins
Matcha is a powder of dried green tea leaves. Together with the pistachio, it gives a beautiful subtle green color and unique taste to these muffins. Our naturally sweet xylitol brings balance. Not only in taste, but also in the nutritional value of the muffins. Xylitol contains 40% fewer calories than refined sugars and has almost no influence on your blood sugar level.

6 pieces
40 minutes

Ingredients:
175 grams of flour
½ tbsp matcha powder
1¼ tsp baking powder
¼ tsp baking soda
¼ tsp salt
120 ml (vegetable) milk (room temperature)
120 grams SweetLife Xylitol + extra for garnish
50 grams (vegan) butter
1 tsp vinegar or lemon juice
1 tsp vanilla extract
50 grams pistachios + extra for garnish, coarsely chopped

Also necessary:
6 muffin tins and a muffin tin

Preparation:
1. Preheat the oven to 210 degrees. Fill the muffin tin with 6 moulds.
2. Mix the flour through the salt in a bowl.
3. In a large bowl, beat the butter and xylitol until fluffy. Grind the lemon juice and vanilla extract in a blender or with a hand blender until smooth. Stir into the beaten butter. Gently fold the dry ingredients into the wet ingredients until the flour is just incorporated. Fold in the pistachio.
4. Divide the batter with a spoon among the 6 molds. Garnish with some chopped pistachios.
5. Place the muffins in the oven and bake for 5 minutes at 210 degrees. Reduce the temperature to 175 degrees and bake for another 13 to 15 minutes until the top turns golden brown and a skewer comes out clean from the muffin.
6. Let the muffins cool for 5 minutes with the oven door open. Remove from the muffin tin and let cool on a rack to room temperature.
To All Recipes