340 words
2 minutes reading time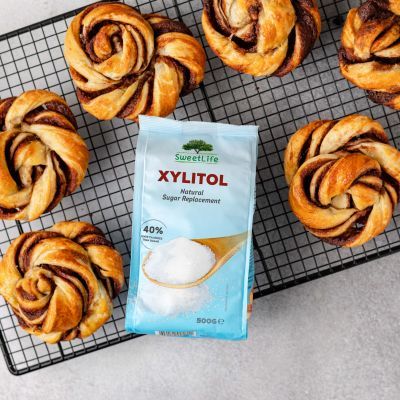 Crunchy Pumpkin Spice Buns with Xylitol
Tired of always baking the same things and looking for a unique treat to surprise your guests with? Try our crunchy Pumpkin Spice Buns with Xylitol!

Ingredients:
75 gr unsalted butter, room temperature
40 gr SweetLife Xylitol + some extra
4 tbs flour
1 Large roll of fresh croissant dough (about 340 gr)
Parchment
1 egg
2 tbs milk

Pumpkin spice mix:
8 tsp ground cinnamon
1 tsp ground nutmeg
4 tsp ground ginger powder
2 tsp ground allspice

Mix the filling by stirring the butter, SweetLife Xylitol and Pumpkin Spice mix together until evenly combined. If the butter is still cold, microwave it for a few seconds to make it mix more easily.
Flour your workspace and roll out the dough with a rolling pin into a 40 x 35 cm rectangle.
Carefully spread the filling across the entire rectangle of dough.
Fold the left third of the dough in and fold the right third of the dough over the left folded part. Think of it like you're folding a business letter.
Roll the pin gently over the dough to remove any air or bubbles. Roll it out again until you're back to size of the rectangle you started with.
Divide the dough into six even strips. Use a large knife or a pizza cutter for this. Take a strip and twist it several times while you gently pull the dough so it lengthens a bit. Easiest way to do this is to take one end of the strip and twist this while you hold the other one in place.
Loosely start to roll one end up until you've reached the end. Tuck the loose end in at the bottom and place the bun on a baking sheet. Repeat this process for the rest of the strips.
Preheat the oven to 200˚C.
Whisk the egg with the milk, brush each bun with some of the egg mix and sprinkle some SweetLife Xylitol on top.
Bake the buns golden brown in about 15 to 20 minutes.
Serve while warm.
Enjoy! #sweetlife
www.instagram.com/sweetlifenatural
To All Recipes