166 words
1 minute reading time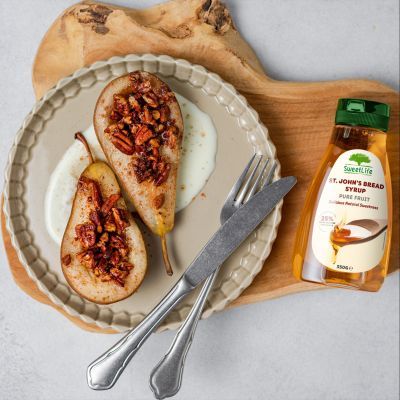 Baked pears with cinnamon and St. John's Bread Syrup
Ingredients:
2 ripe pears, halved
2 tablespoons cold butter, cubed
1/4 cup pecans roughly chopped
3/4 tablespoon cinnamon + extra
1/4 tsp nutmeg
3 tablespoons St. John's Bread Syrup ( Carob Syrup )
4 tablespoons yoghurt

Preheat the oven to 180˚C
Spoon out the seeds from the pears. This will create a small cavity in the flesh of the pears.
Place the pear halves in a high-rimmed baking dish with the flesh of the pears upwards. Pat them dry with paper towel to remove excess moisture.
Mix the pecans, cinnamon, nutmeg and 1 tablespoon of St. John's Bread Syrup together.
Divide the butter evenly over the cavities of the pears and top this with the pecans.
Drizzle the rest of the St. John's Bread Syrup on top of the pears.
Bake the pears for 25 minutes, until soft.
Serve them with yoghurt and an extra pinch of cinnamon. Also tasty with ice cream or whipped cream.
Make these pears as a dessert or serve them with a full breakfast.
To All Recipes