191 words
1 minute reading time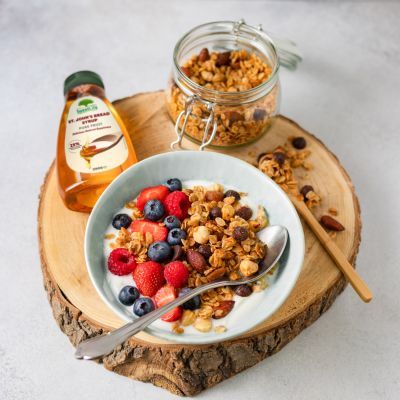 Yummy Home-Made Granola
Always thought about making your own granola? Here's the easy SweetLife recipe that will make you regret that you didn't do it before. Ideal for a yummy breakfast!

Ingredients:
300 gr oat flakes
75 gr almonds
75 gr hazelnuts
½ teaspoon cinnamon
75 ml SweetLife St. John's Bread Syrup
75 gr coconut oil
1 teaspoon vanilla extract
salt
75 gr Fruit Forest Real Fruit snacks (or add dried fruit pieces)

Preheat the oven to 160˚C and line a baking sheet with parchment paper.
Combine the oat flakes, almonds, hazelnuts, cinnamon, St. John's Bread Syrup, coconut oil, vanilla and a sprinkle of salt in a medium bowl.
Scoop the granola onto the baking sheet and press the mixture into a 2,5 cm thick oval.
Bake for 15 minutes, rotate the baking sheet halfway baking time.
Use a fork to break the granola a bit and bake for another 15 minutes or until golden brown.
Let it cool down on the baking sheet.
Add the Real Fruit Snacks ( www.fruit-forest.com ) or dried fruit and mix together.
Store in an airtight container to keep it crispy.
Enjoy and share the share the result! #sweetlife
www.instagram.com/sweetlifenatural
To All Recipes