164 words
1 minute reading time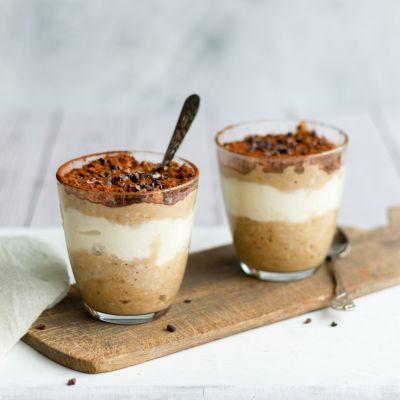 Wholesome breakfast: Tiramisu Overnight Oats!
What could be better than starting your day with a kick of coffee and a hearty oatmeal breakfast? Right, the combination of both in these tiramisu-like overnight oats! Here's the easy-peasy recipe:
For 2 persons
Prepare for 5 minutes + overnight in the refrigerator
Ingredients:
100 grams oatmeal flakes
80ml Espresso
100 ml (vegetable) milk
pinch of salt
1 tsp vanilla extract
4 tsp SweetLife carob syrup (available at Jumbo and Picnic)
6 tbsp vanilla (soy) cottage cheese
1 tsp cocoa powder
1 tsp cocoa nibs (optional)
Preparation in only 2 steps:
1. Mix the oatmeal, espresso, milk, salt, vanilla extract and carob syrup in a small bowl. Cover and place in the refrigerator to set overnight.
2. Stir the oatmeal mixture the next morning and divide three-quarters of it over the jars. Spoon 3 tbsp of the yogurt onto each portion, followed by the rest of the oatmeal. Sprinkle the tiramisu overnight oats with the cocoa and garnish with cocoa nibs if desired. Enjoy!
To All Recipes