323 words
2 minutes reading time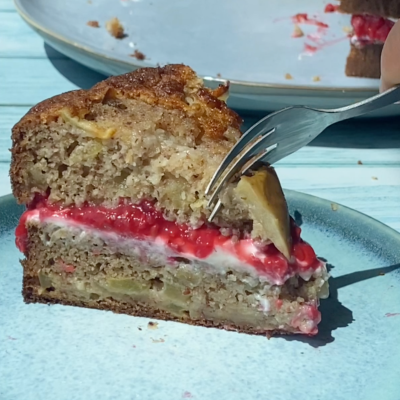 Healthier apple-raspberry cake
This showpiece may be less unhealthy than it seems at first glance, thanks to our xylitol, carob syrup and 3 portions of fruit. So enjoy more consciously!

12 servings
1½ hours

Ingredients:

Cake:
160 grams of almond flour
160 grams of flour
2 tsp baking powder
½ tsp baking soda
50 grams + 2 tbsp SweetLife Xylitol (birch sugar)
225 ml (vegetable) milk
2 eggs
50 ml sunflower oil
40 grams SweetLife Carob syrup
Zest and juice of ½ lemon
2 Fuji apples (approx. 350 grams)

Cream filling:
4 tsp cornstarch
125 grams (frozen) raspberries
125 grams of dairy spread light

Preparation:
1. Preheat the oven to 175 degrees. Grease a 20 cm cake tin and line with baking paper.
2. Mix the almond flour through the baking soda with 50 grams of xylitol and ¼ tsp of salt in a large bowl. In another bowl, beat the milk through lemon until frothy.
3. Cut 1½ apples into ½ cm cubes and the other half into slices.
4. Fold the wet ingredients into the dry ingredients until the flour is just incorporated. Fold the apple cubes into the batter.
5. Pour the batter into the cake tin. Place the apple slices in a spiral pattern on the cake and sprinkle with 2 tablespoons xylitol.
6. Bake the cake for 60-70 minutes. A skewer then comes out dry, with at most some crumbs, from the center of the cake. After 45 minutes, cover the cake loosely with aluminum foil. Let cool completely.
7. Mix the cornstarch with 1 tbsp water. Bring the raspberries to the boil with 1 tbsp water in a pan and cook until the raspberries fall apart - 3-4 minutes. Add the cornstarch mixture and cook for 10 seconds. thicken while stirring. Let cool.
8. Cut the cake in half lengthwise. Spread the dairy spread over the bottom half, followed by the raspberry jam. Place the top half of the cake on top.
To All Recipes