253 words
2 minutes reading time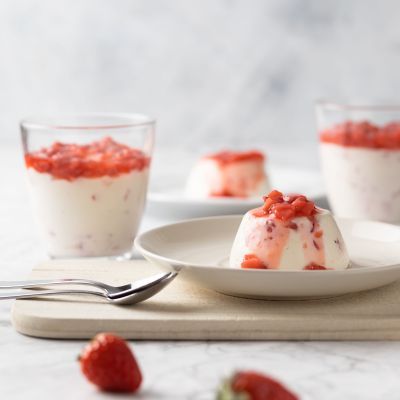 Panna Cotta with yoghurt and strawberries
With this recipe you will never again have panna cotta that you have to serve in vain as thick yogurt. Speaking of: we do replace part of the cream with yogurt. Add our xylitol and you have a delicious, foolproof and lighter dessert. How do you prefer to serve your panna cotta?

4 servings
15 minutes + 5 hours waiting time

Ingredients:
3 leaves of gelatin
200 ml whipped cream
60 grams + 2 tsp SweetLife xylitol (birch sugar)
250 grams skyr
150 grams of strawberries, cut into very small cubes

Preparation:
1. Soak the gelatin for 10 minutes in a bowl with plenty of water.
2. Heat the whipped cream in a pan until just below boiling point. Remove from heat.
3. Squeeze the gelatin leaves well and stir into the whipped cream together with 60 grams of xylitol until the gelatin has dissolved. Let cool to room temperature.
4. Stir the skyr and 75 grams of strawberry cubes into the whipped cream. Spoon the mixture into 4 ramekins (muffintins or glasses also work) and let it set in the refrigerator for at least 4 hours.
5. Bring the rest of the strawberries to the boil in a pan with 1 tbsp water and 2 tsp xylitol over low heat. Stir frequently as the strawberries break down and the sauce thickens in a few minutes. Remove from heat and let cool.
6. Immerse the panna cotta molds in hot water for a few seconds and transfer to a plate. Serve with the strawberry sauce.
To All Recipes