167 words
1 minute reading time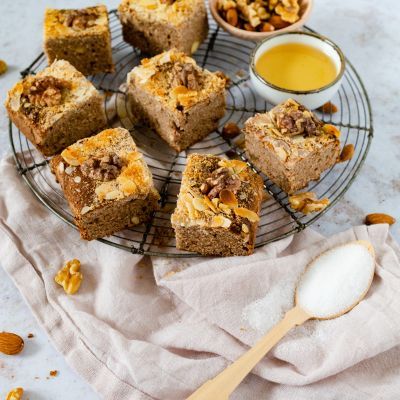 Banana coconut cake with walnuts and almonds
Prep time: 20 minutes
Cook time: 35 – 40 minutes
Servings: 15 pieces
Equipment: brownie tin 38 x 30 cm, food processor, parchment paper
Ingredients:
3 ripe bananas
140 grams of buckwheat flour
3 eggs
150 grams SweetLife Erythritol
2 tablespoons SweetLife St. John's Bread Syrup (a.k.a. Carob Syrup)
20 grams shredded coconut + extra for decorating
1 tablespoon pumpkin pie spice
1 teaspoon baking powder
Pinch of salt
40 grams chopped walnuts + extra for decorating
40 grams chopped almonds
Almond flakes for decorating
Preparation:
Preheat the oven to 180 degrees Celsius and grease a brownie tin. Line with parchment paper.
Add all ingredients except the nuts to the bowl of the food processor and mix until combined.
Stir in the chopped nuts and pour the batter in the prepared tin.
Decorate with nuts and coconut and bake for 35 minutes. Check with a toothpick if it's baked properly. If not, extend the baking time with 5 minutes.
Let it cool on a rack and cut into squares.
To All Recipes