266 words
2 minutes reading time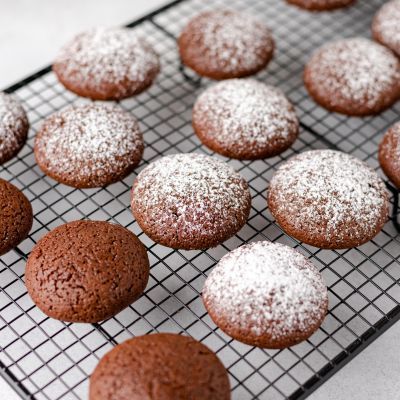 No-Sugar Dark Chocolate Cookies
Did you think baking without sugar is boring and tasteless? Think twice! SweetLife Xylitol and Xylitol powder function like sugar (powder) in many recipes. Try these mouth-watering dark chocolate cookies for example!

Ingredients:
175 gr dark chocolate, chopped
60 gr unsalted butter
175 gr flour
½ tsp baking powder
1 tsp cinnamon
½ tsp grounded ginger powder
½ tsp salt
2 eggs, room temperature
150 gr SweetLife Xylitol (sugar replacement)
1 tsp vanilla extract
50 gr Icing Xylitol (powder sugar replacement)

Melt the chocolate with the butter on low heat until it is smooth. Set aside to cool a bit.
Mix the flour, baking powder, cinnamon, ginger and salt in a clean bowl.
In another bowl whisk the eggs, SweetLife Xylitol and vanilla for 2 minutes until the mixture looks light yellow and pale. Add the melted chocolate and butter in a small stream while whisking.
Add the flour until it is evenly combined. Cover the bowl with some cling wrap and set it to cool in the fridge for at least 2 hours.
After 2 hours (or more) preheat the oven to 160˚C.
Divide your chocolate dough into 20 small balls (about 5 cm each). Place them on a baking tray and flatten them a bit with the palm of your hand.
Bake them for about 15 minutes. Let them cool for about 5 minutes on the baking tray before you transfer them to a cooling rack.
Sprinkle SweetLife Icing Xylitol on top generously and they are ready to eat.
Store in an airtight container to keep them fresh up to 3 days.
Enjoy! #sweetlife
To All Recipes