263 words
2 minutes reading time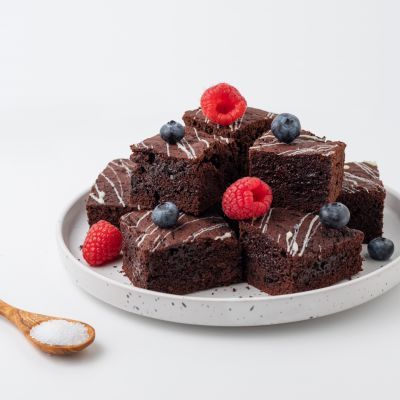 Chocolate Brownies with Xylitol
A delicious recipe for traditional brownies. Simple to make, without real sugar, but full of flavour!

Ingredients:
175g unsalted butter
75g dark chocolate
225g SweetLife Xylitol (a.k.a. Birkenzucker / Berkensuiker )
3 large eggs, at room temperature
2 teaspoon vanilla extract
120g wheat flour, sifted
70g cocoa powder, sifted
1 teaspoon baking powder
1 teaspoon salt
50g white chocolate

Preheat the oven to 175˚C. Line a 20x30 cm baking tin with baking paper.
Heat the butter with 50 grams of the dark chocolate. This can be done in short phases in the microwave or in a saucepan over low heat (do not let it simmer). Stir frequently until the chocolate is incorporated.
Mix with a whisk the butter mixture with the SweetLife Xylitol until smooth. Add the eggs 1 at a time with the vanilla extract. Mix for another 4 minutes until you have a light brown mixture. Meanwhile, coarsely chop the 25 grams of dark chocolate.
Add the sifted flour, cocoa powder and baking powder to the butter mixture. Gently fold this together with the chopped chocolate and the salt. Pour into the baking tin and smooth with a spatula or the back of a spoon.
Bake the whole thing in the oven for 25 minutes. Let it cool for another 15 minutes and then take it out of the mold. Then cut tasty small bite-sized cubes and pour some melted white chocolate on top. Garnish with fresh fruit if desired and then serve your delicious brownies to your guests.
Tip: add coarsely chopped nuts to the batter for an extra bite.
Enjoy! #sweetlife
To All Recipes