231 words
1 minute reading time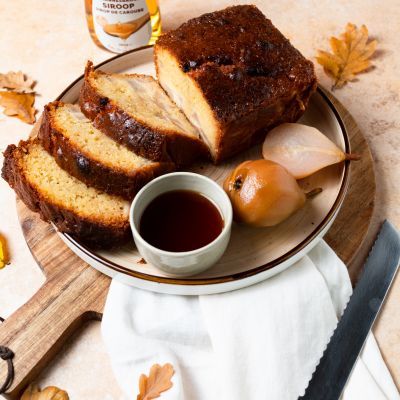 Autumn Recipe: Cake with Poached Pears
Autumn weather asks for autumn recipes! This cake with poached pears and SweetLife syrup brings out fall vibes! You can either choose to make the poached pears yourself (see our recipe here: https://www.sweetlifenatural.com/en-gb/rep/poached-pears-recipe-stoofpeertjes) and fill your home with a wonderful smell, or you can buy ready-made poached pears in store to save some time. Either way, this cake is delicious and moist and sweetened with nothing else but St. John's Bread Syrup (a.k.a. Carob Syrup / Johannesbroodsiroop) and pears.
Prep time: 15 minutes
Cook time: 60 minutes
Servings: 8 persons
Equipment: mixer, cake tin and baking paper
Ingredients:
• 200 grams butter at room temperature
• 200 grams SweetLife St. John's Bread Syrup
• 4 eggs
• 200 grams self-rising flour
• Pinch of salt
• 5 poached pears, cut into pieces
• Poached pear sauce to garnish (optional)
Preparation:
Preheat the oven to 170 degrees Celsius and line a cake tin with baking paper.
Mix the butter with the Syrup until creamy.
Add the eggs one by one.
Use a spatula to mix in the self-rising flour and salt.
Finally mix in the poached pears.
Poor the batter into the cake tin and bake the cake in the middle of the oven for 60 minutes until cooked. Use a skewer to check if the cake is ready.
Leave to cool completely and garnish with the poached pear sauce.
Enjoy your #SweetLife!
To All Recipes