188 words
1 minute reading time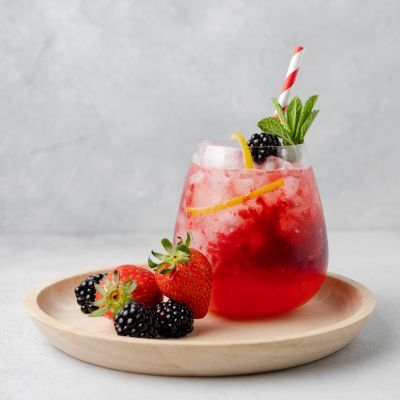 Forest fruit mocktail
A delicious recipe for drinks to enjoy while relaxing in the sun together!

Ingredients for 2 glasses:
30 ml water
30 ml SweetLife Xylitol
50 gr strawberries
50 gr raspberries
50 gr blackberries
Juice of 1 lemon + zest
200 ml ginger ale
Mint leaves
2 glasses (tumblers)

Make a syrup by mixing the hot water and xylitol. Stir well until the xylitol is completely dissolved. Let this cool down.
In the meantime, fill two tumblers with ice cubes, so that the glasses get really cold.
Place the strawberries, raspberries and blackberries with 5 tbsp (50 ml) of the syrup and lemon juice in a blender and mix finely. Strain this so that you only have the juice left. You don't want the seeds to end up in your drink.
Discard the ice cubes from the glasses and fill them halfway with crushed ice. Divide the fruit juice evenly over the two glasses, this is about 100 ml. Fill the glasses to the edge with crushed ice. Top off with ginger ale and garnish the mocktail with a sprig of mint, some lemon zest and a straw.
Enjoy!
To All Recipes